Share on Facebook
What important phrase do Fred and George use to convince the Marauder's Map to reveal its secrets?
"Severus Snape has a long and unfortunately crooked nose."

"Alohomora!"

"I solemnly swear that I am up to no good."

"We only use our powers for mischief."
According to Sirius Black, if you want to know what a man's like, what should you look at?
What he does when no one is watching.

What he does when he is handed power.

How he reacts to the darkness in the world.

How he treats his inferiors, not his equals.
In The Sorcerer's Stone, Hermione speaks about the misbehavior of her friends by saying,"We could have been killed, or worse..."
Expelled

Suspended

Lost house points

Tortured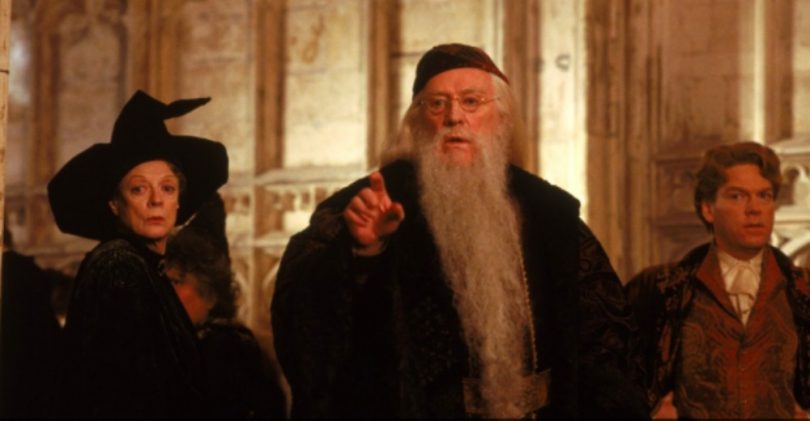 According to Dumbledore, happiness can be found even in the darkest times if one only remembers what?
Who gave this unexpected wisdom: "Things we lose have a way of coming back to us in the end, if not always in the way we expect."
Neville Longbottom

Luna Lovegood

Rubeus Hagrid

Gilderoy Lockhart
In a burn of epic proportions, Hermione tells Ron that he has the emotional range of what?
A teaspoon

A tablespoon

A soup spoon

A ladle
We'll end it off with a tough one. Which minor character dropped this truth bomb:"Every human life is worth the same, and worth saving."
Fleur Delacour

Colin Creevey

Professor Slughorn

Kingsley Shacklebolt
Hi there, reader! Thanks for being here… We've been serving up magically silly quizzes to keep you in the know about yourself since 2015, and it's thanks to friendly folks like yourself that we're still going strong. It's been a blast to help millions of you "learn" where you grew up based on your taste in snacks and whether or not you're an actual perfectionist. And then, of course, we've been there for you when you've wanted to know who your real soulmate is based on all your exes.
Whether you're a first-time reader or you've been dropping by our site for years, we really appreciate the part you play in making our work here possible. We love what we do because not only do we get to spend our time writing fun quizzes, we also get to put it in front of millions of people and make their day just a little bit more fun.
We love making people happier than they were before they clicked on our site. It may sound like a lofty claim, but don't worry, we're realistic about it. We're not important like food shelves and college scholarships. We just want to make life better at about the level of, say, knock-knock jokes and fried cheese curds. It's the small joys, ya know?
If you want to be a part of it more than simply taking a quiz, that would be awesome. We're always looking for contributors. Whether you want to become a regular writer or just send in a one-off submission, we'd love to hear from you. You can email [email protected].
Alright, that's enough from us. We're heading back to the internet. If you are, too, here's another quiz we think you'll like…