Share on Facebook
When you first met your best friend, did you click right away?
We were pretty much polar opposites and didn't think we'd ever get along

Oh we clicked alright — maybe even a little spark

It felt like we had always known each other! It was amazing

It took some time for us to warm up to each other; it was hard to see what we'd have in common at first

We were thrown together by work, but we got close very quickly
Do you and your bestie talk about serious things very often?
I have never said a serious thing in my life

We understand each other really well, so we share even the hardest things

Our relationship is more doing-things-together than talking-together, but if we need to discuss something we will

We're not very good at "feelings" but we communicate the important information to each other

We've had a volatile relationship, so there are times when we talk more or less, but eventually we share everything
Have you ever felt a little something...more towards your best friend?
Some people like to see it that way, but no way no how

We've never even thought about it

More than a little

I will flirt with anyone and everyone! There's always a little somethin' somethin'

Maybe in a very, very, very different world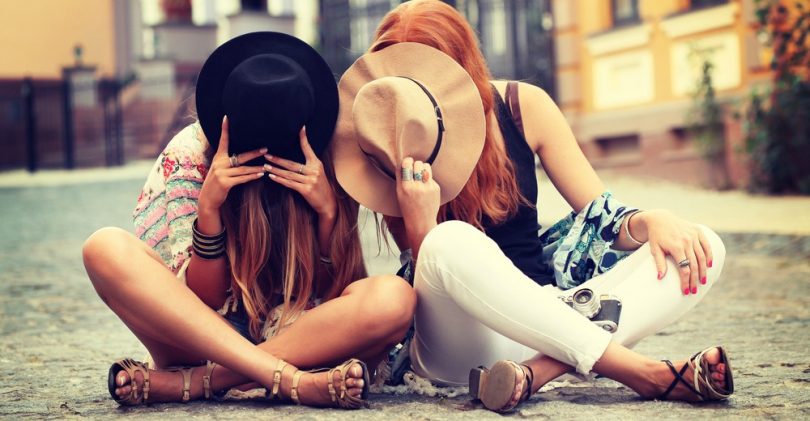 Do you think you and your best friend are very similar, or more of an opposites attract situation?
We're polar opposites, but we that's why we're so fun!

At first glance we might look different, but we have a lot of similarities deep down

We might be a little too much the same — sometimes we need a different perspective

We're so similar, some people accuse us of being the same person

I think we're just in the sweet spot: we have a lot of the same interests, values, and goals, but different talents
What would you most likely find your bestie wearing?
Your best friend decided to do something colossally stupid and potentially dangerous. What do you do?
I try to talk them out of it, or protect them

I try to get them not to do it, but if they insist, then I'm going with them

No way are they going to go do something that stupid — I won't let them!

I'd put on a cheerleader skirt and egg them on!

I'm definitely going to be right next to them — they've probably got a good reason for what they're doing, so the least I can do is keep an eye on them
Hi there, reader! Thanks for being here… We've been serving up magically silly quizzes to keep you in the know about yourself since 2015, and it's thanks to friendly folks like yourself that we're still going strong. It's been a blast to help millions of you "learn" where you grew up based on your taste in snacks and whether or not you're an actual perfectionist. And then, of course, we've been there for you when you've wanted to know who your real soulmate is based on all your exes.
Whether you're a first-time reader or you've been dropping by our site for years, we really appreciate the part you play in making our work here possible. We love what we do because not only do we get to spend our time writing fun quizzes, we also get to put it in front of millions of people and make their day just a little bit more fun.
We love making people happier than they were before they clicked on our site. It may sound like a lofty claim, but don't worry, we're realistic about it. We're not important like food shelves and college scholarships. We just want to make life better at about the level of, say, knock-knock jokes and fried cheese curds. It's the small joys, ya know?
If you want to be a part of it more than simply taking a quiz, that would be awesome. We're always looking for contributors. Whether you want to become a regular writer or just send in a one-off submission, we'd love to hear from you. You can email [email protected].
Alright, that's enough from us. We're heading back to the internet. If you are, too, here's another quiz we think you'll like…