Share on Facebook
You've been preparing all day to order from the soup nazi. What do you get?
Crab Bisque

Mulligatawny

Cream of Sweet Potato

Gazpacho
George is getting upset! Which quote embodies his self loathing the best?
"I have a bad feeling that whenever a lesbian looks at me they think, 'That's why I'm not a heterosexual.'"

"I'm 33 years old. I haven't outgrown the problems of puberty. I'm already facing the problems of old age. I completely skipped healthy adulthood."

"I'm a great quitter. It's one of the few things I do well. I come from a long line of quitters. My father was a quitter. My grandfather was a quitter. I was raised to give up."

"This woman thinks I'm very funny and now you're gonna be funny, so what am I gonna be? I'm gonna be a short bald guy with glasses who suddenly doesn't seem so funny."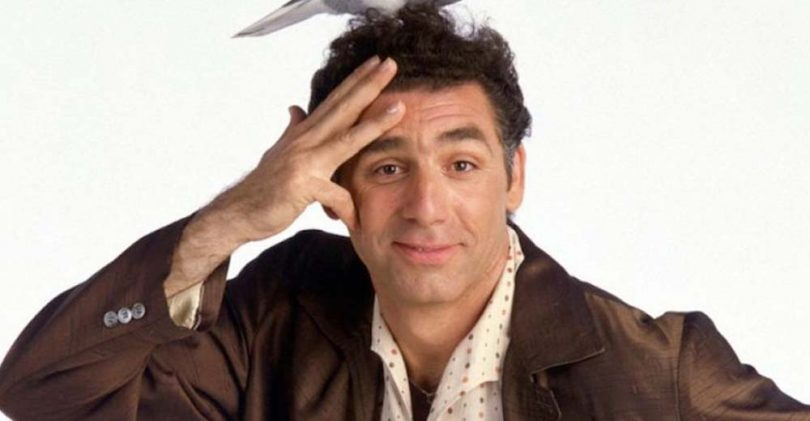 Which of Kramer's professional endeavors would you most like to try for a day?
Condiment Inventor

Rickshaw Entrepreneur

Moviefone Impersonator

Soap Opera Stand-In
Which iconic piece of Seinfeld fashion would you actually wear?
Jerry always brings the jokes. Which one is the funniest?
"What is a date really, but a job interview that lasts all night? The only difference is that in not many job interviews is there a chance you'll wind up naked."

"Dogs are the leaders of the planet. If you see two life forms, one of them's making a poop, the other one's carrying it for him, who would you assume is in charge?"

"I will never understand why they cook on TV. I can't smell it. Can't eat it. Can't taste it. The end of the show they hold it up to the camera, 'Well, here it is. You can't have any. Thanks for watching. Goodbye.'"

"You can measure distance by time. 'How far away is it?' 'Oh about 20 minutes.' But it doesn't work the other way. 'When do you get off work?' 'Around 3 miles.'"
Who's the best boss ever?
J. Peterman

George Steinbrenner

Mr. Pitt

Mr. Kruger
Hi there, reader! Thanks for being here… We've been serving up magically silly quizzes to keep you in the know about yourself since 2015, and it's thanks to friendly folks like yourself that we're still going strong. It's been a blast to help millions of you "learn" where you grew up based on your taste in snacks and whether or not you're an actual perfectionist. And then, of course, we've been there for you when you've wanted to know who your real soulmate is based on all your exes.
Whether you're a first-time reader or you've been dropping by our site for years, we really appreciate the part you play in making our work here possible. We love what we do because not only do we get to spend our time writing fun quizzes, we also get to put it in front of millions of people and make their day just a little bit more fun.
We love making people happier than they were before they clicked on our site. It may sound like a lofty claim, but don't worry, we're realistic about it. We're not important like food shelves and college scholarships. We just want to make life better at about the level of, say, knock-knock jokes and fried cheese curds. It's the small joys, ya know?
If you want to be a part of it more than simply taking a quiz, that would be awesome. We're always looking for contributors. Whether you want to become a regular writer or just send in a one-off submission, we'd love to hear from you. You can email [email protected].
Alright, that's enough from us. We're heading back to the internet. If you are, too, here's another quiz we think you'll like…